"Pala puli thananthakaari vetukopanakacham nannu chaththi"
This inscription seen on a rock, is in ancient Tamil. It means a powerful man of Naga origin who killed so many tigers…may be that such a personality had lived in that mountain or cave.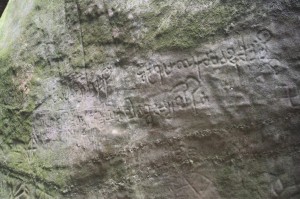 This mountain is the famous "Ambukuthi mala "in vayanadu and this inscription is found in Idaykkal caves in Ambukuthi mala which is situated 1200 meters above sea leve. Idaykkal caves is enriched with many inscriptions like this. Meanings of some inscriptions are yet to be decoded.
I've been roaming in and around Vayanadu for a long time. But a visit to Idaykkal caves, one of the most important destinations in vayanad which could even be one of the most important historical sites of India….it just didn't happen till now.
This visit was planned along with my colleague Thansheer, and we were much particular to enquire about the other possible spots near Idayakkal, to be included in our trip. From Mananthavadi, we reached Idaykkal through Sulthan batheri via Ambalavayal.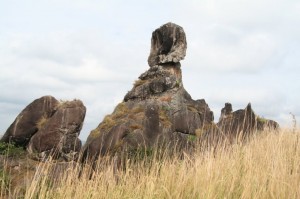 On our way, we saw that State Tourism Board had put up a sign board to help visitors reach 'Phantom Rocks' … Couldn't help from spending some time in those rocks, named after the famous 'walker uncle'. All of us know that, now days, the rocks and rivers are slowly disappearing. I saw that a neighbouring rock has almost fully vanished. May be in future, the Phantom Rocks will also be having the same fate.


Ambukuthimala is not very far from Phantom Rocks. There are enough parking facilities at the base of the hill along with the shops and other tourist attractions. It's a bit over 1 km to reach the hiking point. But jeep services are also available to people who are queasy about walking this distance.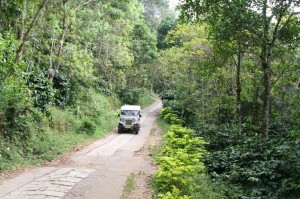 Private vehicles are not allowed in here… and yes, we opted for walking to reach the caves. Once in a while passenger jeeps pass by us, to and fro…Cottages of 'Idaykkal Hermitage' – the one and only resort in Idaykkal, can be occasionally seen on either sides of the road. Though our dinner order had been placed in advance in the hermitage, we did dial to confirm our arrival. In this part of the world its better not to take any chances!
When we reached the base of the mountains, it was crowded with school, college students and other tourists. The whole thrill and leisurely enjoyment of a trip gets spoiled in such a crowd. Photography was also going to be a tricky issue!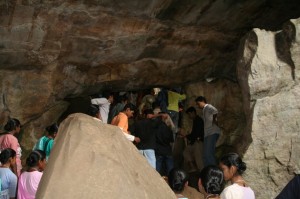 If we can cover the long distance to idaykkal and hike a kilometer, a couple of extra people wouldn't be a challenge and we started the journey into the heart of the idykkal legacy.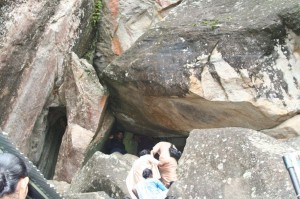 'One at a time' was the system there and people were passing patiently maintaining the queue…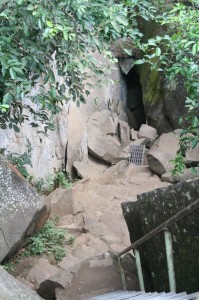 Progress was slow as the queue moved forward by clinging to and scampering over the hard rocks. Iron ladders and bridges were there in some places to make it easier for the tourists.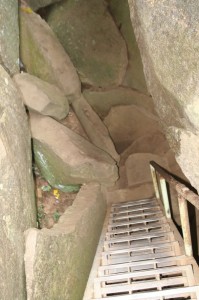 Compared to the last days quest to conquer"Chembra Peek "rea